Dr. Maryam Mahanian, DTCM, RAc
Treating Women's Health Conditions
Are you suffering from horrible menstrual cramps?
Are your periods irregular and unpredictable?
Are your hormones just out. of. whack??
Do you have symptoms of perimenopause?
Do you suffer from debilitating mood swings?
If yes to any of these, you've come to the right place.
You're not alone. These are some of the many struggles women go through... but it doesn't have to be this way! a
Women's health is an area where Chinese medicine shines. Acupuncture & Chinese medicine provides extraordinary results to balance the hormones, regulate your menstrual cycle, and provide relief from premenstrual tension and mood swings. It can offer women in perimenopause and menopause a positive and hopeful solution to make the natural transition as comfortable and symptom-free as possible.
So…welcome!! You've come to the right place!
Women's health conditions that you can get help with:
Menstrual cramps & heavy flow

PMS

Irregular Cycles

Endometriosis

Polycystic Ovary Syndrome (PCOS)

Ovarian Cysts

Perimenopause & Menopause

Vaginal dryness

Low Libido

Irritability & Moodiness

Anxiety & Depression

Weight Gain
More About Women's Conditions
PMS (Premenstrual Syndrome)
Menopause - Perimenopause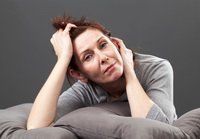 PCOS (Polycystic Ovary Syndrome)
Time to Take Back Control of Your Health
I'm here to tell you that you can take back control of your health and well being and have the best possible hormonal health. There are solutions.
I'm a Chinese medicine doctor and women's health expert and I've been helping women with these challenges since 2002 using acupuncture, Chinese herbal medicine (I can't say enough about how magical Chinese herbs are!), acupuncture, dietary tips and lifestyle tweaks.
What is your menstrual cycle telling your about your overall health & well-being?
Take my online menstrual health assessment (quiz) to find out your unique menstrual health type according to Traditional Chinese medicine (TCM).
After finding out your menstrual type, you will receive customized diet and lifestyle recommendations for your unique constitution.